TV Jones Pickup - Magna'Tron withSoapbar Mount (P90) - Magnatron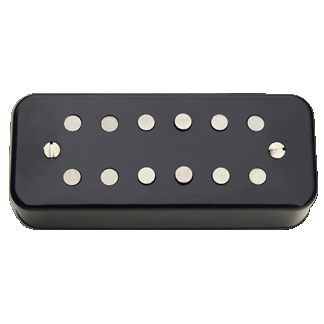 TV Jones Pickup - Magna'Tron withSoapbar Mount (P90) - Magnatron
TV Magna'Tron With Soapbar (P90) Mount



The TV Jones Magna'Tron blends DeArmond-style twang and single coil spank. This special tone is the result of staggered cylinder magnets. The tone is quite aggressive with a quick attack and with exceptional pop and clarity. With two coils there is a hint of compression on the high end and no 60-cycle hum.


Bridge: Features two extra-tall coils with wider pole-to-pole spacing to provide a good balance of output and clarity
Neck: Similar coils with less magnet wire result ina sweeter and clearer tone
Bright and sensitive with less inductance. Tight, clear bass respoonse with dynamics. Similar to single coil tone.
TV Classic but with more clarity and DeArmond style tone


Type of music best suited for:
• Surf Music • Rockabilly • Rock n' Roll • Country
• Brian Setzer - Spectra Sonic C-Melody Baritone neck pickup
Mounting Options available:
- NE Filter'Tron Mount - comes standard with short pole screws and compression rubber


- English Mount - no ring required when mounting on pickguard
EM1 Ring Kit - USA Gibson-style Ring with mounting screws

EM2 Ring Kit - Modified Gretsch Ring with ring risers and mounting screws

EM3 Ring Kit - Dogear Ring

PLEASE NOTE - English Mount Pickup Rings sold separately
- Humbucker Mount (traditional Gibson-style humbucker housing) -plastic cover available upon request


- P-90 Soapbar Mount - comes with compression rubber


- DeArmond Mount - shims for fine tune adjusting included (mounting screws sold separately)
Reviews