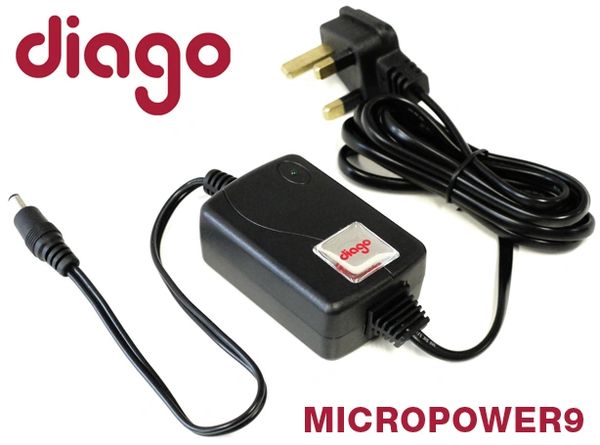 Diago Micropower 9
DIAGO MICROPOWER 9
The Diago Micropower9 is a smaller version of the Powerstation.

Using the same low-noise digital technology as its bigger brother, the Micropower9 is perfect as a direct universal replacement for hundreds of other proprietary bulky and ugly wall warts, as well as being ideal for smaller pedal boards of up to 6 pedals.

The Diago Micropower9 uses digital switch mode technology, making it quiet, light, efficient and tiny, reliably powering your pedal(s) so you can concentrate on making music.

Output: 9V DC @ 1,000 mA (9W)
Input: 90-264VAC @ 50-60Hz
Efficiency: 80%
Line Regulation: ±0.5% max
Load Regulation: ±1% max
Mains Cable Inlet: 2m Figure 8 Lead IEC320-C8
Output Barrel: 2.1 x 5.5 x 12mm female barrel, centre-ve
Dimensions: 72mm (L) x 47mm (W) x 27mm (D)
Protection: Short circuit, overload and over voltage protection
Operating Temperature: 0°C to +40°C
Storage Temperature: -40°C to +85°C
Approval: CE, UL, cUL, TUV, CB, BSMI, RoHS and WEEE
Weight: 70g

Benefits of a Diago Micropower9:
• It's tidy – the inline, laptop style design is much less annoying than a wall wart.
• It's versatile – compatible with over 90% of effects pedals.
• It's powerful – 1,000mA available.
• It's quiet – studio quality components deliver clean and fully regulated power.
• It's practical – very small, lightweight and tough.
• It works worldwide – using automatic voltage and frequency sensing circuitry.
• It's intelligent – short circuit protection means that you or
your pedals won't fry.
• It's safe – meets all national and international safety regulations.
Reviews
Featured Products