Grover Guitar Humidifier - GP7960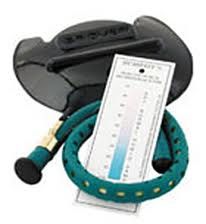 Grover Guitar Humidifier - GP7960
Grover Guitar Parts
For almost a century, we've been keeping the world's finest string instruments in tune. It started in the late 1800's when Grover first produced a few guitar and banjo machine heads, then expanded into additional production of tuners for bass guitar, pedal steel, mandolin, dulcimer, ukulele and violin.
While many changes have taken place over the years, the one constant has been that we continue to supply the music industry with the finest products available. From the world's first enclosed, permanently lubricated machine heads, to our newest technological breakthroughs, the one-step self lock, we are proud to be original equipment on many of the world's finest string instruments.
Since our production process utilises only the top of the line quality standards, we proudly stand behind our machine heads with the following lifetime warranty... should your Grover tuners ever fail, for any reason, simply return them to us for a fast and friendly no charge repair or replacement. If you are already using Grover products, thank you for your support in making Grover the most trusted name in music around the world.



If not, maybe it's time to "Change Over to Grover!"
Grover Guitar Humidifier





GP7960
Protect your investment! It is essential to maintain a proper moisture level if your guitar is stored in an area prone to severe dryness and/or cold (such as a heated home). Our new guitar case humidifier helps to prevent adverse effects such as bad string action, buzzing, protruding fret ends, cracking, top-sinking, and other damage caused as a result of dryness. Made of soft latex which is harmless to all instrument finishes, these humidifiers release moisture to maintain proper humidity levels. Includes a cover to seal the sound hole during use. Easy-to-follow instructions and a user-friendly humidity gauge are included.
Reviews
Featured Products