Grover Guitar Capo - Ultra Capo - GP750 Series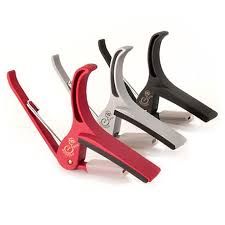 Grover Guitar Capo - Ultra Capo - GP750 Series
Grover Guitar Parts
For almost a century, we've been keeping the world's finest string instruments in tune. It started in the late 1800's when Grover first produced a few guitar and banjo machine heads, then expanded into additional production of tuners for bass guitar, pedal steel, mandolin, dulcimer, ukulele and violin.
While many changes have taken place over the years, the one constant has been that we continue to supply the music industry with the finest products available. From the world's first enclosed, permanently lubricated machine heads, to our newest technological breakthroughs, the one-step self lock, we are proud to be original equipment on many of the world's finest string instruments.
Since our production process utilises only the top of the line quality standards, we proudly stand behind our machine heads with the following lifetime warranty... should your Grover tuners ever fail, for any reason, simply return them to us for a fast and friendly no charge repair or replacement. If you are already using Grover products, thank you for your support in making Grover the most trusted name in music around the world.



If not, maybe it's time to "Change Over to Grover!"
Grover Guitar Ultra Capo





Our new Ultra Capo features the 'World's first" offset design

,

allowing just a bit more room for the thumb on the back of the neck.
Easy on... easy off... easy position, the Ultra-Capo also features a unique, non-glare velvet finish for a soft, no-slip feel. Made of lightweight, but super strong aluminum, the Ultra-Capo included the famous *Grover Lifetime Warranty.
Reviews
Featured Products