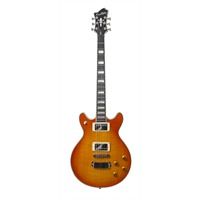 Hagstrom Deuce
Hagstrom Deuce
Based on the Hagstrom Super Swede, the Deuce offers the same gutsy sound and unbelievable playability, with the added bonus of a double-cutaway design for better access to the 'bats and dogs' frequencies.
Total Guitar Magazine awarded the Deuce the coveted 'Best Buy' rosette and gave it a 5/5 rating - that's how good these guitars are.
Part of the fun comes from the extraordinary tonal variation possibilities created by the individual coil-taps. This means you can move from rock/blues 'grunt' to chiming finger-picking at the flick of a few switches.
Like all Hagstroms, the build quality is bullet-proof. The fretboard is a joy to play - flat and smooth due to the Resinator compound construction, and virtually trouble-free thanks to the 'H-Rod' truss rod system.
The Deuce is simply a fantastic guitar - and no doubt a 'future classic.' It is easy to own - easy to play - and sounds like the guitar you always promised yourself.
SPECIFICATIONS
Resinator Wood Fingerboard

Hagstrom - 18:1 ratio Tuning Keys

2 x Hagstrom Custom 58 Pickups

3-Way Toggle Switch Pickup Selector

Coil Tap
Reviews