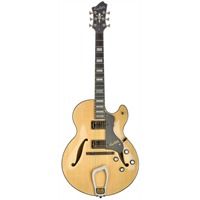 Hagstrom HJ600
HAGSTROM HJ600
You could walk from New Orleans to Newport via Birdland, and still not find a better value jazzer than the HJ600.
Sure, there are some brilliant - even legendary - jazz guitars in the market....but those guitars are big bucks. You can also pick up a cheap little jazzer from a company you've never heard of....but will it be any good? Probably not.
The HJ600 is made from high-end materials - built with high-end precision - plays like a Custom Shop guitar - and sounds like a high-end jazz guitar. Everything says 'this is expensive', except the pricetag.
The top is spruce - the back and sides are flamed maple - the neck is American hard maple, and is set into the body. The fretboard is Hagstrom's patented 'Resinator,' which when allied to the unique 'H Expander' truss rod, gives a playing surface which is flat, straight, fast and accurate.
This guitar is fitted with Vintage-voiced HJ50s which are warm, but punchy.
Whether plugged or unplugged, the HJ600 is an incredibly satisfying guitar to play. Everything about it speaks of quality and heritage. This is the sort of guitar you give yourself as a present, and wonder why you didn't do it earlier.
Specifications
Body : Spruce Top, Contoured Flamed Maple Back and Sides

Neck : North American Hard Maple Set Neck

Fingerboard : Resinator Fretboard with Hagstrom Pearl Block Position Marks

Truss Rod : H-Expander Truss Rod

Tuning Keys : Hagstrom 18:1 Die Cast Tuners

Scale Length : 24.75" Scale

Pickups : 2x Hagstrom Custom HJ-50 Humbuckers

Selector : 3-Way Toggle

Bridge : Ebony Jimmy bridge with Hagstrom Trapeze Tail Piece

Reviews
Featured Products