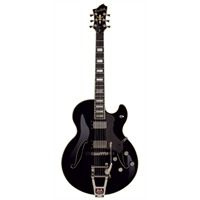 Hagstrom HK500 Tremar
HAGSTROM HJ500 TREMAR
From Jazz to Rockabilly, Blues to Rock and every station in between. The Tremar HJ500 is a killer guitar no matter what style of music you love to play. If you like to play lots of different styles, this guitar will blow your mind.
Because the body has a large capacity, you can reasonably play the HJ500 unplugged. Jack it into a something warm and tubey and it will melt your heart with the rounded lilting tones. Pump up the gain and the volume and you've got a big, fat blues box in your hands. Whether you prefer a bit of B.B. and the boys from the Old School, or you like your blues with a Rockier flava, the HJ will deliver a massive punch, great string bends and super fast action along the whole length of the neck. Add a bit of slapback echo and grab hold of the whammy bar and you have a Rockabilly powerhouse. Pound for pound, it will square up to anything Gretsch, Guild or the big bodied Gibsons can offer.
Like all Hagstroms, the HJ is made from high end components. Contoured Canadian top and Canadian hard maple set neck. The pick-ups are vintage voiced for the sweetest growl since Eartha Kitt. You even get nice little details like a Tusq nut and patented Hagstrom Resinator fretboard and H-Expander truss rod, which keeps the business end of the guitar fast, flat and deliciously playable with virtually no need for maintenance.
Specifications
Body: Hollow-Bodied Contoured Canadian Maple

Neck: Canadian Hard Maple, set

Fingerboard: Resinator™ Fretboard with Hagstrom Pearl Block Position Marks / 15 Inch Radius

Trussrod: H-Expander

Turning Keys: Hagstrom 18:1 Die Cast

Scale Length: 24,75" / 628 mm / Graph Tech™ Black Tusq XL 43mm nut

Pickups: 2 x Hagstrom HJ-50

Pickup Selector: 3-Way Toggle 3-Way Toggle Switch

Vibrato: Hagstrom Tremar

Bridge: Ebony Jimmy bridge w/ Hagstrom Trapeze Tail Piece

Controls: 2 x Tone
Reviews