Hagstrom Mora Dreadnought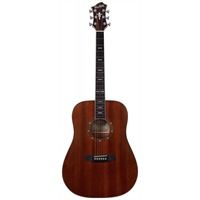 Hagstrom Mora Dreadnought
HAGSTROM MORA DREADNOUGHT
The Mora models using a solid Mahogany top with Mahogany back and sides provides a more brilliant and brighter tone with a generous amount of mids. However, the model produces a rather full tone without being considered "trebly" or "thin".

As most acoustic guitars on the market today use a combination of different tone woods, this single species of wood provides a truly unique tone.

Where the instrument seems to be specially voiced for soloing and finger picking styles, as single notes and phrasing seem to jump out from the instrument. Cosmetically speaking, the brownish hues from the darker tone wood will attract many players looking for a new stage companion.
Reviews