Hagstrom Siljan Custom Grand Auditorium E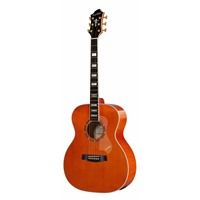 Hagstrom Siljan Custom Grand Auditorium E
HAGSTROM SILJAN CUSTOM GRAND AUDITORIUM
Since the 1940's, Hagstrom has offered fine acoustic instruments to all corners of the earth, where many have found their way into the hands and homes of players from around the world.


Both to musicians who choose to play in the comfort in their own home or on the grand stages, of some of the worlds most proclaimed and prestigious concert halls.


The Siljan Customs, matching the same unmistakable beauty and spirit of its siblings the "Viking DLX Custom" models; the fusion will create a perfect partnership, which will distinctively set the stage and mood at any performance. The extensive beauty of these instruments will not outshine the exquisite tone produced by these models, where quality timbers have been specifically picked for players to perform gracefully on the stage, while playing live. We at Hagstrom have ensured that beauty will not surpass purpose. Specially equipped with an utmost preamp system by our fellow Scandinavian's at "B-Band", the incorporation of their T-35 pickup system and UST (under saddle transducer), allows any acoustic player to simply "plug-in" and faithfully reproduce the rich clarity that the Siljan Custom offers.


Known to many players, the use of Maple has been recognized as being especially useful for use in live situations to combat unwanted feedback in an acoustic environment.


The Siljan Custom will prove to be a worthy live companion for many moments of unsurpassed performances, while taking the stage for itself.

Body: Flame Maple - Back and Sides

Top: Solid Sitka Spruce

Neck: Maple, Set Neck (Dove tail)

Fretboard: Resinator™ Fretboard / 12 inch radius

Fretboard Inlay: Pearloid Block Inlays

Tuners: 18:1 Ratio – Hagstrom - Gold

Bridge: Resinatorwood

Preamp: B-Band T-35 System

Controls: Volume Bass Middle Treble Phase
Reviews