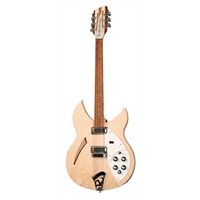 Rickenbacker 330/12
RICKENBACKER 330/12
The unmistakable tone of a 330/12 being put through its paces - is there any sound better in the whole Rock 'n' Roll world? It spans the generations, fads, fashions, technology...every era, every age group, every development in modern music from the early Sixties until the present day can boast a Ric 330/12 player who defined the 'moment in time.'
The Ric 330/12 is unique in that it can summon waves of nostalgia, while at the same time unlocking new doors and directions, so far untravelled.
Careful acoustic research has resulted in the full, rich and warm sound of this popular model. Two single coil pickups on a full size body are accented by a traditionally shaped sound hole. The 24 fret Rosewood fingerboard is punctuated by dot inlay fret markers, with full double cutaways permitting access to all the frets. Standard output is monaural through a single jack plate.
MADE IN AMERICA
SPECIFICATIONS

Model: 330/12
Body Type: Semi-Acoustic
Frets: 24
Scale: 24 3/4"
Nut: 1 5/8"
Body: Maple
Neck: Maple - Set
Fingerboard: Rosewood
Inlays: Dot
Tailpiece: "R" Tailpiece
Bridge: 6 Saddle
Pickups: 2x Hi Gain
Output: Mono
Reviews