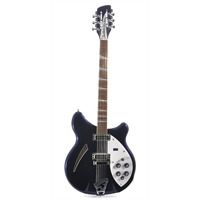 Rickenbacker 360/12
RICKENBACKER 360/12

In the history of Rock 'n' Roll, there can be no sound so distinctive and instantly recognizable as the Rickenbacker 360/12 being put through its paces. From The Beatles to The Byrds - from Brian Jones to Jeff Buckley - from Carl Wilson to Johnny Marr - wherever and whenever a crisp, frosty morning chime is required to lift a song, a 360/12 will be called upon to work its magic.
Generation after generation of musicians have relied upon the 360/12 for the quality of sound, consistency of tone and all-round playability. It has inspired greatness in song-writing, live performance and recording and provided the backdrop to some of the most iconic moments in recorded musical history.
As well as having a trademark sound, the 360/12 is visually just as unique. The wonderfully rounded shape of the body and 'R' tailpiece have set hearts racing for over thirty years. The all maple body and neck, rosewood fretboard with shark-fin markers give the guitar a feeling of elegant solidity as befits a member of the Rock Aristocracy.
12 string guitars just don't come any better than the 360/12. Sure, there are other Double Sixes on the market - some of them are even very, very good - but nothing comes close to Rickenbacker 360/12.
Body Type: Semi-Acoustic.
No. Frets: 24.
Scale Length: 62.9 cm (24 3/4'').
Neck Width at Nut: 41.4 mm (1.63'').
Neck Width at 12th Fret: 49.05 mm (1 .931'').
Crown Radius: 25.4 cm (10'').
Body Wood: Maple.
Neck Wood: Maple.
Fingerboard Wood: Rosewood.
Weight: 3.6 kg (8.0 lbs.).
Overall Length: 101.6 cm (40'').
Overall Width: 38.1 cm (15'').
Overall Depth: 38.1 mm (1 1/2'').
Neck Binding: Yes.
Fret Marker Style: Triangle.
Tailpiece: ''R''.
Bridge: 6 Saddle.
Neck Type: Set-in.
Reviews