Samson Expedition XP510i - 500-Watt Portable PA With i-Dock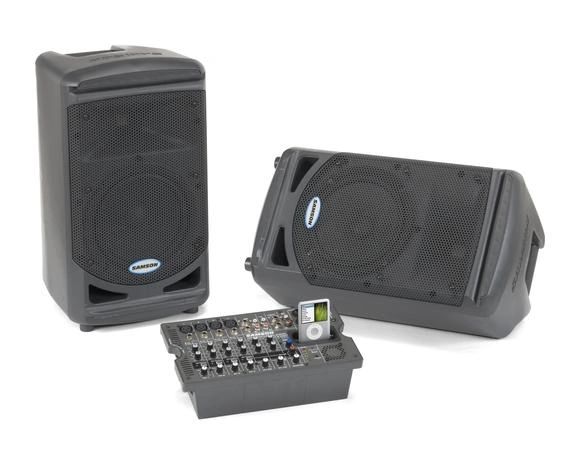 Samson Expedition XP510i - 500-Watt Portable PA With i-Dock
SAMSON EXPEDITION XP510i
The Expedition XP308i gives you the power to perform wherever you need it. With powerful, full-range sound in an all-inclusive portable package, the Expedition XP308i is an ideal single system solution for a variety of live sound applications.
A compact PA system with dual 2-way speakers, on-board mixer and 300-watt power amplifier, the XP308i is the ultimate in portability thanks to a clever, lightweight design that allows you to connect all the pieces together into a single, easy to transport case. The internal 2 x 150-watt Class D power amplifier produces an incredibly clean and powerful stereo sound. The system's speakers are 2-way vented enclosures with heavy-duty 8" woofers for deep bass. These are complemented by a 1" titanium tweeter set in a custom horn with a 60 x 90 degree coverage pattern. The result is consummate dispersion and loud, lucid audio.
The XP308i's 8-channel mixer can be removed from the speaker for tabletop use and you can use the kickstand to set the mixer at an ergonomically correct angle. The mixer features four mic/line inputs, two stereo inputs, bass and treble control on each channel input and Phantom Power. For enhanced convenience and versatility, the XP308i includes a built-in iPod dock, which easily connects to most iPod models for seamless music playback.
With all these comprehensive features set in one portable, great sounding system, the Expedition XP308i stands out as one of the most versatile and inclusive portable PA systems on the market.
Reviews
Featured Products