Seymour Duncan Pickup - Antiquityfor Jaguar Pickup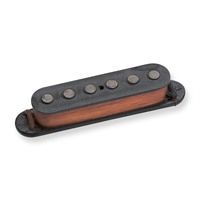 Seymour Duncan Pickup - Antiquityfor Jaguar Pickup
Seymour Duncan Antiquity for Jaguar Pickup



Smooth and lush, the Antiquity Jaguar neck uses calibrated Alnico 2 rod magnets and a custom coil wind for the neck to give you a round, warm Surf tone.
Description
Our custom Antiquity aging process adds a sweetness to this pickups already warm tone. The calibrated Alnico 2 rod magnets soften the treble attack to deliver a Surf tone without any harsh pick attack. This Antiquity Jaguar pickup is wound RWRP so that, when used together with the bridge model, they will be hum-canceling. This pickup is a drop-in replacement for any Fender American Standard sized Jaguar pickup, and will fit into the existing cover and claw.
Hand built in our Custom Shop, these pickups us Alnico 2 rod magnets, a custom coil wind with heavy formvar mag wire, cloth push-back lead wire, and they are all lacquered and wax potted like the originals.
Reviews