TV Jones Modern Tele (Savalas) Bridge Plate - No Ears (NE) Filter'Tron - 3 hole / 3 saddle mount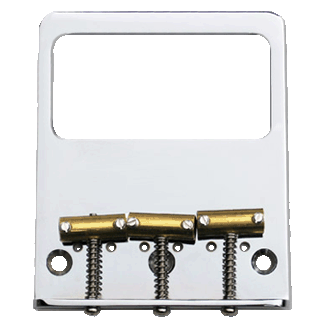 TV Jones Modern Tele (Savalas) Bridge Plate - No Ears (NE) Filter'Tron - 3 hole / 3 saddle mount
TV Jones Modern (American Standard) Tele (Savalas) Bridge Plate - (NE) No Ears Filter'Tron Mount



The custom Modern Bridge Plate was specially designed to hold a Filter'Tron-sized pickup. This unique bridge allows you to put any of our NE Filter'Tron Mount pickups in your Fender Telecaster or any other tele-style guitar. Add a TV Classic or a Power'Tron in your Tele - the tone is AMAZING.

Pickups available in the NE Filter'Tron Mount:
   TV Classic
   TV Classic Plus
   Power'Tron
   Power'Tron Plus
   Super'Tron
   Magna'Tron
   TV-HT
   T-90 (in development...)

Routing of your guitar is necessary to allow for the larger Filter'tron-style pickup to replace the stock single-coil pickup, which are slightly smaller.

This plate comes with 3 adjustable brass saddles and mounting hardware. Available in chrome or gold finish. Comes complete and ready to install. Click "Available Options" under the photograph above to see detailed dimensions.

Please Note: Previous bridge must have three mounting screw holes.

If you have a Fender Telecaster or other tele-style guitar with a bridge plate that mounts with 4 holes - please see our  Original (Savalas) Tele Bridge Plate.
Reviews