TV Jones Paul Yandell Duo-Tron Pickup - Universal Mount - Duotron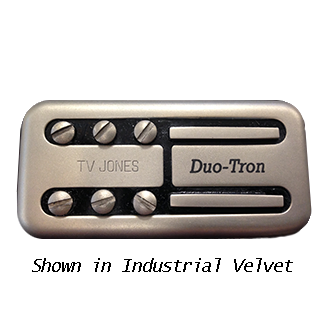 TV Jones Paul Yandell Duo-Tron Pickup - Universal Mount - Duotron
TV Jones Paul Yandell Duo-Tron Pickup - Universal Mount

Over 57 years in the making, the Duo-Tron's origins hark directly back to the very first patented humbucking guitar pickup. The unique and proprietary design was developed with Chet Atkins in mind and by a master fingerpicker who was known as Atkins' "right-hand man," (and Chet's best friend,) Mr. Paul Yandell. Paul Yandell's Duo-Tron is a simplified version of Ray Butts' stereo concept laid out in his original patent drawings, (No. 2,892,371, filed Jan. 22, 1957 and awarded June 30, 1959.) TV Jones' world-class product line and stellar reputation in the industry were the driving force to bring the final version of the Duo-Tron to life. In addition, the Duo-Tron features our new proprietary finish, Industrial Velvet, which is currently exclusive to this pickup.
Bridge: 7.4K DCR
Neck: 4.0K DCR
Characteristic/Tone:
The Duo-Tron features a proprietary design, and combines blades and special alloy pole screws that highlight the response of the magnet. The blades provide a bigger note and is well-suited for finger-picking styles. The player won't lose any sensitivity bending the treble strings and will notice a fuller, bolder response that affects both sound - and equally important – feel. The bass side dials in a tone directly reminiscent of Ray's original Filter'Tron - but with a touch more dynamic attack that is a little more focused and rounded.
Likeness/Derived from:
Super'Tron, TV Classic and TV Classic Plus
Type of music best suited for:
The Duo-Tron is a pickup for any genre and all players – Blues, Rock, Hard-Rock, Finger Picking and Chord Melody Jazz
Who uses this pickup:
• Paul Yandell, Steve Wariner, Paul Moseley, Craig Dobbins
Mounting Options available: Universal Mount

The groundbreaking, patent-pending design combines both the standard No Ears "NE" Filter'Tron Mount and the company's English "EM" Mount into one housing, allowing TV Jones pickups to now be installed in a larger variety of guitars.

"This housing is all about making things easier and simpler for everyone concerned," said Thomas "TV" Jones. "Ordering and installation are now a piece of cake – simply choose your finish and position and you'll be good to go. Our Authorized Dealers and worldwide network of Custom Builders are ecstatic about the simplicity the Universal Mount™ brings them. We are sure our customers will appreciate it, too."

TV Jones pickups will now ship with all necessary mounting screws, compression foam, and "clips" for both Wood Screw and Suspended Mount installations.
Please note - If replacing pickups with English Mount - no ring required when mounting on pickguard
EM1 Ring Kit - USA Gibson-style Ring with mounting screws

EM2 Ring Kit - Modified Gretsch Ring with ring risers and mounting screws

EM3 Ring Kit - Dogear Ring
Please note - EM Rings sold separately


Finishes available:
Chrome

Nickel

Gold

New TV Jones Nickel Industrial Velvet (pictured)
Reviews