TV Jones Pickup - Bass Thunder'Mag with English Mount (EM) - Thundermag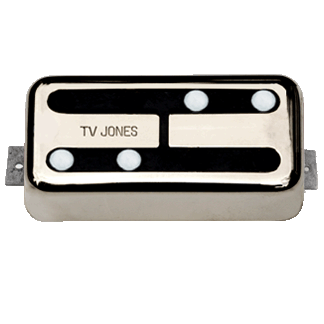 TV Jones Pickup - Bass Thunder'Mag with English Mount (EM) - Thundermag
TV Jones Bass Thunder'Mag Pickup

The Thunder'Mag has explosive treble with lots of bottom end. This special tone is the result of off-set T-Armond cylinder magnets. The tone is quite aggressive with a quick attack, and exceptional pop and clarity. With two coils there is a hint of compression on the high end and no 60-cycle hum.
Aggressive, but not harsh
Thunder'Tron meets Rickenbacker
Mounting Options available:
- NE Filter'Tron Mount - comes standard with short pole screws and compression rubber


- English Mount - no ring required when mounting from pickguard
EM1 Ring Kit - USA Gibson-style ring with mounting screws

EM2 Ring Kit - Modified Gretsch ring with ring risers and mounting screws

EM3 Ring Kit - Dogear ring
PLEASE NOTE - Rings sold separately

- P-90 Soapbar Mount - comes with compression rubber - Choose your pickup colour and screw/blade colour


- DeArmond Mount - shims for fine tune adjusting included (mounting screws sold separately)
Mount Type of music best suited for:
• Country • Rock n' Roll • Rockabilly • Rock • Jazz
SPECIAL NOTES:

*4 conductor wire is generally not recommended for the Thunder'Mag due to lower inductance, however, it is convenient for custom switching. Pickup ships ready for standard 2 conductor wiring.
Reviews