TV Jones Pickup - Bass Thunder'Tron with Soapbar Mount (P90) - Thundertron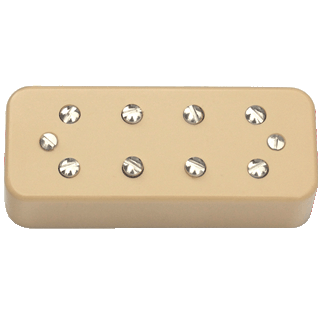 TV Jones Pickup - Bass Thunder'Tron with Soapbar Mount (P90) - Thundertron
TV Jones Thunder'Tron Bass Pickup

Named by Saul Koll of the Koll Guitar Company for its' thunderous bottom-end. An all-around stand-out performer with superior dynamic sensitivity and punch. String-to-string response is excellent, and notes ring out with supreme fullness and clarity.

Mini humbucker bass pickups
Mounting Options available:
- NE Filter'Tron Mount - comes standard with short pole screws and compression rubber


- English Mount - no ring required when mounting on pickguard
EM1 Ring Kit - USA Gibson-style Ring with mounting screws


EM2 Ring Kit - Modified Gretsch Ring with ring risers and mounting screws

EM3 Ring Kit - Dogear Ring

PLEASE NOTE - English Mount Rings sold separately.

- Humbucker Mount (traditional Gibson-style humbucker housing) -plastic cover available upon request


- P-90 Soapbar Mount - comes with compression rubber


- DeArmond Mount - shims for fine tune adjusting included (mounting screws sold separately)



Type of music best suited for:
• Country • Rock n' Roll • Rockabilly • Rock • Jazz

Reviews