TV Jones Brian Setzer Signature Pickup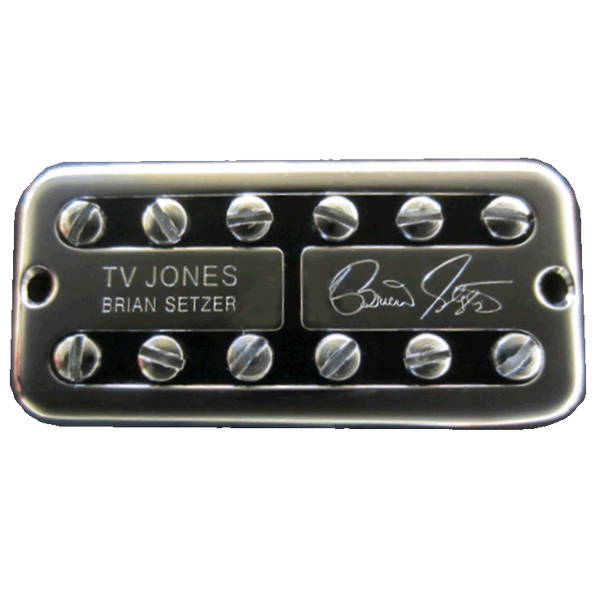 TV Jones Brian Setzer Signature Pickup
Brian Setzer Signature
Following over 20 years of collaboration, TV Jones is proud to offer their first-ever Artist's Signature pickup: The TV Jones Brian Setzer Signature model.
The Setzer is derived from Brian's longtime preference for the TV Classic line – the most versatile and popular humbucking pickups in the TV Jones line, with a lineage harking back to Tom's original dissection and study of a certain, famed '59 Filter'Tron™ which became the reference point for the TV Classics themselves.
Bridge: 6.3K DCR
Neck: 4.5K DCR
Characteristic/Tone:
The TV Jones Brian Setzer Signature Pickup features a proprietary design, and employs special alloy pole screws that highlight the response of the magnet. This design provides more clarity while producing the punchiest low-end mid response in our Classic line.
Likeness/Derived from: 
It's a bit more over-the-top than the other Classics, but even with its similarities to the Classics, this is a wholly unique design – and a sonic match of the man's persona and musicianship.
Type of music best suited for:
The Setzer is a pickup for any genre and all players. TV Jones mean it and stand behind this statement. Hear it and try it – we believe you'll agree. It's got Brian's signature on it.
Who uses this pickup:
• Brian Setzer
Mounting Options available:
   - Universal Mount

The groundbreaking, patent-pending design combines both the standard No Ears "NE" Filter'Tron Mount and the company's English "EM" Mount into one housing, allowing TV Jones pickups to now be installed in a larger variety of guitars.

"This housing is all about making things easier and simpler for everyone concerned," said Thomas "TV" Jones. "Ordering and installation are now a piece of cake – simply choose your finish and position and you'll be good to go. Our Authorized Dealers and worldwide network of Custom Builders are ecstatic about the simplicity the Universal Mount™ brings them. We are sure our customers will appreciate it, too."
 
TV Jones pickups will now ship with all necessary mounting screws, compression foam, and "clips" for both Wood Screw and Suspended Mount installations.
Reviews