TV Jones Pickup SET - Ltd Edition Humbucker - Sold as set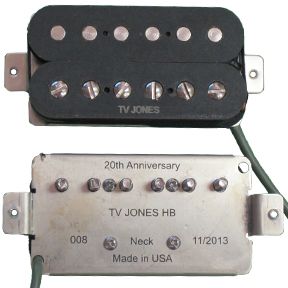 TV Jones Pickup SET - Ltd Edition Humbucker - Sold as set
TV Jones Limited Edition Humbucker Pickup Set



Legendary luthier and pickup maker Thomas V. Jones, grew up and remains a huge fan of rock and blues. Now he has gone back to his roots to produce the definitive PAF-style humbucker on the market. Our LTD Humbucker is clear, articulate and punchy - combining all of the best characteristics of a traditional humbucker.
The Limited Edition Humbucker is sold in calibrated sets. 100 sets have been produced and are available now to celebrate over 20 years in business. All pickups are numbered 001-200, and comes with a certificate of authenticity signed by Tom.
Pickups come standard with 4 conductor wiring for optional coil-splitting. Mounting rings are not included. These pickups will fit into any guitar already equipped with standard size hum buckers with two adjustment screws.
Bridge: 8.3 K DCR
Neck: 7.0 K DCR
Reviews