TV Jones Pickup - Power'Tron with Humbucker Mount (HB) - Powertron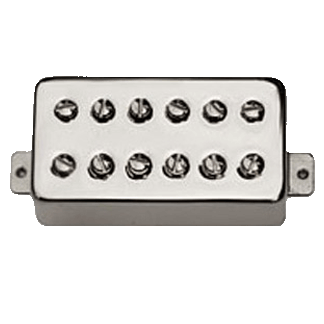 TV Jones Pickup - Power'Tron with Humbucker Mount (HB) - Powertron
TV Power'Tron With Humbucker Mount



The Power'Tron was born out of TV Jones desire to create a pickup with a stronger midrange presence and higher output than the TV Classic.
Bridge: Two extra-tall bobbins allow for more winds of standard-gauge magnet wire. Single treble notes are reproduced with a fuller tone, while bass notes twang out deep and clear. Overall, the tone is remarkably close to a 1950's PAF Humbucker, blended with the zing and twang of a Filter'Tron™.
Neck: Standard bobbins over-wound with standard-gauge magnet wire. The resulting tone is slightly darker and hotter than a TV Classic neck.
TV Classic on steroids Overall slightly darker - punchy mids and clean treble Gibson-like with Filter'Tron™ overtones. If purchased with four conductor wiring the coils can be split or wired in parallel - NOTE: please ask if you need 4 conductor wiring

1950's Gibson Humbucker Fatter than the TV Classic Plus

Mounting Options available:
- NE Filter'Tron Mount - comes standard with short pole screws and compression rubber


- English Mount - no ring required when mounting on pickguard
EM1 Ring Kit - USA Gibson-style Ring with mounting screws

EM2 Ring Kit - Modified Gretsch Ring with ring risers and mounting screws

EM3 Ring Kit - Dogear Ring

PLEASE NOTE - English Mount Pickup Rings sold separately
- Humbucker Mount (traditional Gibson-style humbucker housing) -plastic cover available upon request


- P-90 Soapbar Mount - comes with compression rubber


- DeArmond Mount - shims for fine tune adjusting included (mounting screws sold separately)
Reviews