TV Jones Pickup - Super'Tron with Universal Mount - Supertron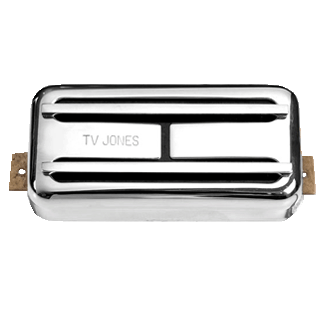 TV Jones Pickup - Super'Tron with Universal Mount - Supertron
TV Super'Tron With Universal Mount



The TV Jones Super'Tron is a replica of the original early 1960's prototype design. It is basically a TV Classic with steel blades instead of pole screws. The blades provide a larger magnetized surface area, producing greater inductance. The resulting tone retains the TV Classic clarity, but with a bold and full broadband punch.
Bridge: Blades are milled with a radius for superior string-to-string balance
Neck: Made with flat blades to keep the tone clear and warm
Similar to the TV Classic but a thicker and bolder tone Warmer than mid 1960's Super'Trons with laminated blades The Super'Tron neck is very clear and warm. Great choice for finger picking or jazz
Early 1960's proto-type Super'Tron with solid steel blades
Mounting Options available:
- Universal Mount

The groundbreaking, patent-pending design combines both the standard No Ears "NE" Filter'Tron Mount and the company's English "EM" Mount into one housing, allowing TV Jones pickups to now be installed in a larger variety of guitars.

"This housing is all about making things easier and simpler for everyone concerned," said Thomas "TV" Jones. "Ordering and installation are now a piece of cake – simply choose your finish and position and you'll be good to go. Our Authorized Dealers and worldwide network of Custom Builders are ecstatic about the simplicity the Universal Mount™ brings them. We are sure our customers will appreciate it, too."

TV Jones pickups will now ship with all necessary mounting screws, compression foam, and "clips" for both Wood Screw and Suspended Mount installations.

-
Note - if fitting as an 'English Mount' - no ring required when mounting from pickguard
EM1 Ring Kit - USA Gibson-style ring with mounting screws

EM2 Ring Kit - Modified Gretsch ring with ring risers and mounting screws

EM3 Ring Kit - Dogear ring
PLEASE NOTE - Rings sold separately

- P-90 Soapbar Mount - comes with compression rubber - Choose your pickup colour and screw/blade colour


- DeArmond Mount - shims for fine tune adjusting included (mounting screws sold separately)
Type of music best suited for:
• Blues • Rock n' Roll • Jazz – neck position • Finger Style – neck position
• Chet Atkins (Super'Tron neck w/solid blades) • Brian Setzer (Black Pin Striped Hot Rod – Run, Run Rudolph)
Reviews