TV Jones Pickup - T-90 with Professional Gretsch Mount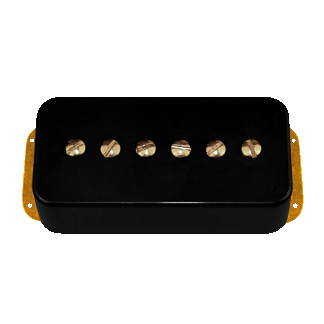 TV Jones Pickup - T-90 with Professional Gretsch Mount
T-90 Pickup - Professional Gretsch Mount

The TV Jones answer to a traditional P90. A one of a kind sound that embodies a traditional P-90 design with the classic TV Jones growl. The result is a fuller, fatter P-90 pickup with clear transparent tones.
Bridge: The bridge pickup has thicker highs and more defined lows than what is commonly heard from traditional P-90s. We use two 1/4" Filter'Tron bar magnets, as well as Filter'Tron pole screws, and wider pole-to-pole spacing on the bridge pickup. This provides more inductance for a thicker tone and plenty of dynamics.
Neck: The neck pickup has two 1/8" alnico IV bar magnets which contributes to it's clarity and warmth. It is considerably less boomy than traditional P-90s.
Mounting Options available:
- Professional Gretsch Mount - for Professional Gretsch guitars - comes with compression rubber


- NE Filter'Tron Mount - for solid body guitars - comes with compression rubber


- English Mount - no ring required if suspended from pickguard or ring


EM1 Ring Kit - USA Gibson-style ring with mounting screws

EM2 Ring Kit - Gretsch surround with ring risers and mounting screws

EM3 Ring Kit - Dogear-style ring
- P-90 Soapbar Mount - comes with compression rubber
Type of music best suited for:
• Rockabilly • Blues • Country • Rock n' Roll • Jazz
Reviews