TV Jones Pickup - T-Armond with Soapbar (P90) Mount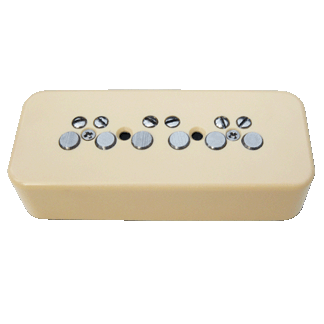 TV Jones Pickup - T-Armond with Soapbar (P90) Mount
T-Armond With Soapbar (P90) Mount



The TV Jones T-Armond uses .238" American-made cylinder magnets. Adjustable cylinder magnets enable each string to be dialed in for the perfect, sweet DeArmond tone. The T-Armond comes with 2-conductor "switchable" wiring to solve any out-of-phase issues.
Bridge: Wider pole spacing, which places a magnet directly under each string, results in optimum string separation and output. This pickup is wound with thinner magnet wire to enhance it's thicker tone.
Neck: Shorter cylinder magnets give the neck pickup a clear, transparent and balanced tone with less string pull.
Full and bold – bridge position Clear
Transparent tone – neck position
Traditional DeArmond pickup
Mounting options available:
- P-90 Soapbar Mount - comes with compression rubber


- DeArmond Mount - shims for fine tune adjusting included


- T-Series - All NEW Filter'Tron Housing!

Type of music best suited for:
• Surf Music • Rockabilly • Rock n' Roll • Finger Style • Country
*4 conductor wire is not recommended.
Mounting screws sold separately
Reviews