TV Jones Pickup - TV-HT with Universal Mount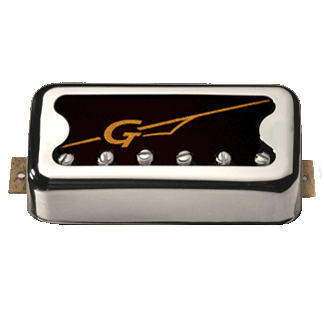 TV Jones Pickup - TV-HT with Universal Mount
TV-HT (Hilo'Tron) With Universal Mount



Clanky, single coil tone with a hint of natural midrange. When the bridge and neck pickups are on at the same time, 60-cycle hum is eliminated. In this mode they are 2 single coil pickups wired in parallel. The TV-HT is designed to produce twangy bass and crisp highs. 
Note: The TV-HT is not a top-mounted pickup and may not fit on some vintage Gretsch Guitars. However, this vintage version is available through special order. 
Bridge: TV Jones improved on the vintage Hilo'Tron™ single coil pickup by widening the pole-to-pole spacing and increasing the output of the bridge position. 
Neck: A tonal replica of a vintage 1960's Hilo'Tron™ pickup. 
Twangy and clanky Tight, clear bass notes 
Original 1960's Hilo'Tron™ 
Mounting Options available:
  - Universal Mount

The groundbreaking, patent-pending design combines both the standard No Ears "NE" Filter'Tron Mount and the company's English "EM" Mount into one housing, allowing TV Jones pickups to now be installed in a larger variety of guitars.

"This housing is all about making things easier and simpler for everyone concerned," said Thomas "TV" Jones. "Ordering and installation are now a piece of cake – simply choose your finish and position and you'll be good to go. Our Authorized Dealers and worldwide network of Custom Builders are ecstatic about the simplicity the Universal Mount™ brings them. We are sure our customers will appreciate it, too."
 
TV Jones pickups will now ship with all necessary mounting screws, compression foam, and "clips" for both Wood Screw and Suspended Mount installations.
 


  Please note - when fitting as an 'English Mount' - no ring required when mounting on a pickguard


EM1 Ring Kit - USA Gibson-style ring with mounting screws

EM2 Ring Kit - Modified Gretsch ring - comes with ring risers and mounting screws

EM3 Ring Kit - Dogear-style ring
Type of music best suited for:
   • Surf Music         • Rock n' Roll         • Rockabilly 
• George Harrison – used original Hilo'Trons™ during the Shea Stadium era 
*4 conductor wire is not recommended. 
Reviews