TV Jones Pickup - Power'Tron with Universal Mount - Powertron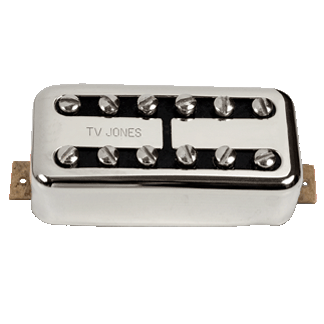 TV Jones Pickup - Power'Tron with Universal Mount - Powertron
TV Power'Tron With Universal Mount



The Power'Tron was born out of TV Jones desire to create a pickup with a stronger midrange presence and higher output than the TV Classic. 
Bridge: Two extra-tall bobbins allow for more winds of standard-gauge magnet wire. Single treble notes are reproduced with a fuller tone, while bass notes twang out deep and clear. Overall, the tone is remarkably close to a 1950's PAF Humbucker, blended with the zing and twang of a Filter'Tron™. 
Neck: Standard bobbins over-wound with standard-gauge magnet wire. The resulting tone is slightly darker and hotter than a TV Classic neck.
TV Classic on steroids Overall slightly darker - punchy mids and clean treble Gibson-like with Filter'Tron™ overtones. If purchased with four conductor wiring the coils can be split or wired in parallel - NOTE: please ask if you need 4 conductor wiring

1950's Gibson Humbucker Fatter than the TV Classic Plus  

Mounting Options available: 
   - Universal Mount

The groundbreaking, patent-pending design combines both the standard No Ears "NE" Filter'Tron Mount and the company's English "EM" Mount into one housing, allowing TV Jones pickups to now be installed in a larger variety of guitars.

"This housing is all about making things easier and simpler for everyone concerned," said Thomas "TV" Jones. "Ordering and installation are now a piece of cake – simply choose your finish and position and you'll be good to go. Our Authorized Dealers and worldwide network of Custom Builders are ecstatic about the simplicity the Universal Mount™ brings them. We are sure our customers will appreciate it, too."
 
TV Jones pickups will now ship with all necessary mounting screws, compression foam, and "clips" for both Wood Screw and Suspended Mount installations.


   - If fitting as an 'English Mount' - no ring required when mounting on pickguard 
EM1 Ring Kit - USA Gibson-style Ring with mounting screws

EM2 Ring Kit - Modified Gretsch Ring with ring risers and mounting screws

EM3 Ring Kit - Dogear Ring

PLEASE NOTE - English Mount Pickup Rings sold separately
   - Humbucker Mount (traditional Gibson-style humbucker housing) -plastic cover available upon request


   - P-90 Soapbar Mount - comes with compression rubber


   - DeArmond Mount - shims for fine tune adjusting included (mounting screws sold separately)
Reviews