TV Jones Router Template - No Ears (NE) Filter'Tron Mount - Pickup Router Template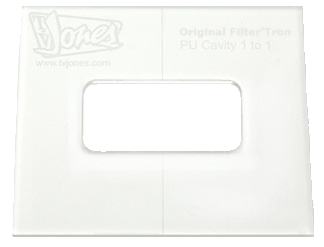 TV Jones Router Template - No Ears (NE) Filter'Tron Mount - Pickup Router Template
TV Jones Router Template - No Ears (NE) Filter'Tron Mount - Pickup Router Template



Use the NE Filter'Tron Mount Router Template to route a tight, clean cavity in your guitar. (The "NE" refers to the smaller Filter'Tron backplate with no flanges or "ears" extending from the pickup). NE Filter'Tron Mount pickups are installed using wood screws thru the cover into the bottom of the pickup cavity. Compression Rubber is recommended under the pickup for fine adjustment.


Best route for a Tele-style (for example, La Cabronita) guitar. May also be used to route a 6120-style hollow body guitar, etc..


The NE Filter'Tron Mount Router Template will allow you to get the correct cavity size when installing a TV Jones Tele Bridge Plate with a Filter'Tron sized hole.


Ball bearing guide needs to match cutting diamater of router bit (1:1).


Available in small (use double stick tape) or large (clamp to guitar).




*if larger cavity is desired (for side-to-side play) see Original Filter'Tron Mount Router Template - ring or pickguard needed.
Please note - image shows router for original FT mount

Reviews