TV Jones Spectra Sonic C Melody Baritone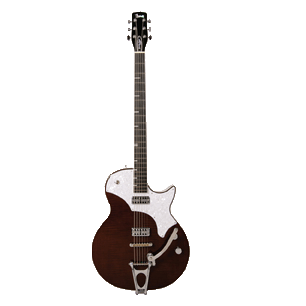 TV Jones Spectra Sonic C Melody Baritone
TV JONES SPECTRA SONIC C MELODY BARITONE
This beautiful top-of-the-line baritone guitar is available in three knockout colors, and comes standard with a hardshell case. Color choices include Charcoal Black, Deep Walnut and Metallic Silver. Charcoal Black and Deep Walnut are translucent to enhance the natural wood grain. Designed by Thomas V. Jones.
Spectra Sonic C-Melody Specs


Color: Deep Walnut, Charcoal Black, Metallic Silver


Pickups: TV Jones TV Classic Bridge and Magna'Tron Neck


Body: Single cutaway chambered semi-hollow, w/b/w/b binding on top


Body Top: Figured maple


Back and Sides: Chambered alder body 15.25" X 1.875"


Neck: Maple


Scale length: 29.4"

Weight: 8.3 - 8.8 pounds

Headstock Face: Black with white binding

Fretboard: Ebony with white binding

Inlay: Custom TV Jones shoestring potato fret markers, TV Jones pearl logo on headstock

Width at nut: 1.719" - Delrin material

Width at end of Fingerboard: 2.25"

Finish: Nitro cellulose lacquer

Frets: 22 frets, medium wire

Tuners: Sperzel non-locking #1 buttons

Bridge: Tokiwa ABR-1, brass saddles

Tailpiece: Bigsby B-5 vibrato

Pickguard: 3 ply pearloid / black / white

Plating: Chrome

Wiring Harness: Switchcraft pickup selector, CTS 500K master volume, CTS 500K master tone, .0068 uF Cap

Strings: D'Addario 13p - 17p - 26w - 36w - 46w - 60w
Tuning: C - F - Bb - Eb - G - C (standard guitar intervals)
Reviews