VOX VGC19BK Class A Cable - 19FT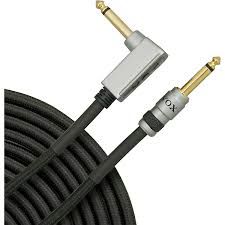 VOX VGC19BK Class A Cable - 19FT
VOX CLASS A CABLE - 19ft



Multi-gauge coaxial cable geometry optimised and specially tuned for either electric guitar, electric bass or electro-acoustic guitars.

Pure oxygen-free copper for maximum signal transfer.

Polypropylene dielectric enables stronger signals and better high frequencies.

24K gold-plated connectors for long life and corrosion resistance.

Braided cloth jackets for long life with superior flexibility.
Vox guitar cables use the finest grade OFC copper conductors that will give you better clarity and a more natural sounding midrange. This material is seldom used for guitar cables, and is world renowned in audiophile circles. The unique multi-gauge design uses conductor types that are optimized for their particular frequency ranges, and this results in sound that is much more dynamic, fuller sounding, and more natural and life-like. Other cables sound flat and lifeless in comparison. These products are fully engineered using proprietary technology and manufacturing methods to bring you a vastly superior musical experience.
Reviews