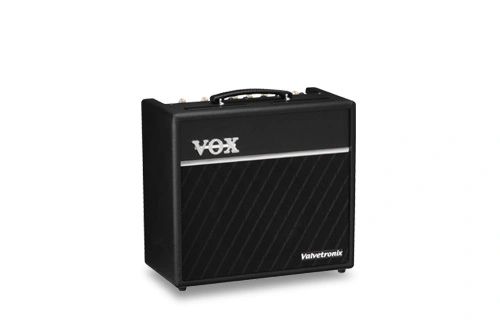 VOX Valvetronix VT80+
VOX VT80+
The perfect combination of innovation and tradition, the VOX Valvetronix + Series combines sophisticated modeling technology with vintage know-how to provide an array of authentic guitar tones that are worthy of the name VOX. Based on the acclaimed VOX Valve Reactor circuit, which utilizes a genuine 12AX7 vacuum tube in the power stage, these advanced digital amplifiers retain the familiar warmth of a genuine tube amp.

Boasting an amazing collection of 33 distinct amp models, from the most coveted vintage amps to the latest high-gain and boutique units, 25 high-quality effects based on the most popular stompboxes, and 33 instant song presets to get you playing right away, the Valvetronix + Series is the ideal choice for discerning guitarists. Available in a variety of models ranging from 20 to 120 watts, there's a VOX Valvetronix + amp for everyone!
Rated at 80 Watts, with 40 Watts Reserve Power, the VT80+ was designed for players seeking a versatile and dependable gigging and recording amplifier.
80 Watts + 40 Watts Reserve Power

12AX7 tube driven technology

33 amp models, 25 effects, 99 instant presets
Reviews