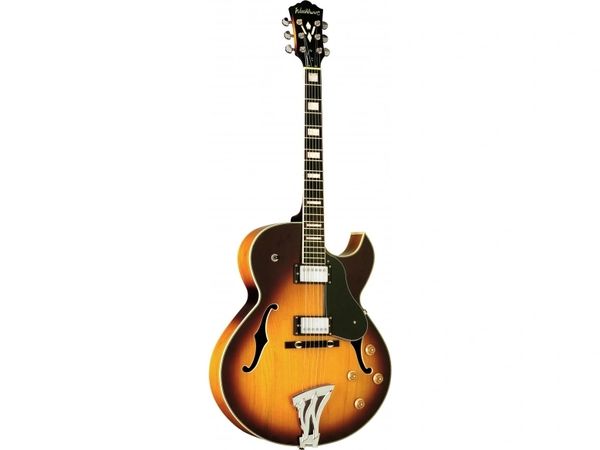 Washburn J3
You could walk from New York to New Orleans and from Paris France, to Paris Texas and still not find a better value jazz guitar than the J3.


The secret is 'no secret' when you read the specs. The maple top, body and neck combine to deliver a harmony of syrupy warm tone - whether plugged or unplugged. If you DO decide to add some power, the twin vintage voiced humbuckers simply purr - it's like having Eartha Kitt curled up on your lap.


The rosewood fingerboard and bridge are jazz guitar 'must-haves.' They add a resonance to the sound and strip out any hint of harshness from the tone, leaving nothing but warmth and roundness.


The appointments defy the price tag. The bound 'F' holes give a sumptuous air of quality, and the Art-Deco style 'W' tailpiece with matching machineheads add a final flourish which makes this guitar pure eye-candy.


The J3 is a jazz guitar through and through. It was designed to be a jazz guitar. It is built to be a jazz guitar and it plays like a jazz guitar. It isn't just 'some hollowbody that you can play jazz or blues on,' the J3 is straight jazz, no chaser.


Whether you are a dedicated jazz player, or maybe just someone looking for a fireside buddy, the J3 is an absolute delight to own and play.

SPECIFICATIONS

Maple top & maple body

Maple Neck

Florentine cutaway

Bound f holes

Multi laminate binding

Rosewood fingerboard w/ block inlays

Chrome hardware

2 humbucker Pickups

4 knob/3 way switch

Rosewood Bridge

Washburn W jazz tailpiece
Reviews