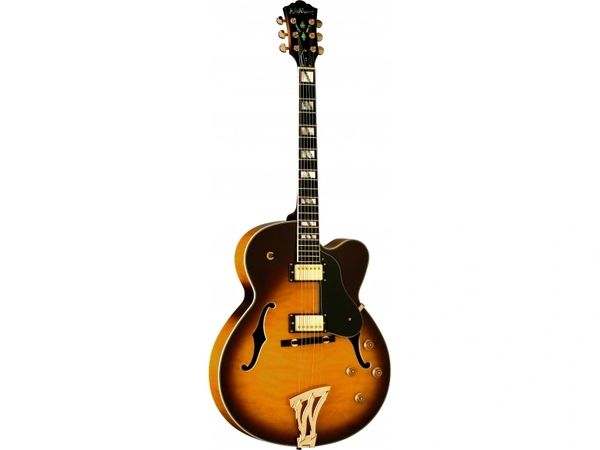 Washburn J5
WASHBURN J5 JAZZ GUITAR - TOBACCO SUNBURST
Jazz deluxe. Washburn have been making jazz guitars of the very highest quality for well over one hundred years. The J5 is at the pinnacle of a evolutionary pyramid which been constructed over generations, combining experience and know-how to produce a guitar which is high on quality but low on price.
The J5 was designed as an electric jazz guitar. It isn't a development of an acoustic guitar, nor is it the 'jazz version' of another model. From inception, the focus was to produce the most playable jazz guitar in the price bracket, with a tone which was both rich and mellow. All of this was achieved.

From a tone perspective, this guitar is as sweet and smooth as Bailey's Ice Cream. The acoustic resonance is very much to the fore - warmed and expanded by the Vintage-voiced humbuckers without even the merest hint of harshness.

Strummed, the guitar almost purrs, whereas using finger styles brings out the brightness and clean bell-like qualities of the tone. Even when pushed hard the J5 keeps its composure. You could quite happily use this guitar to play Rock 'n' Roll, blues or country and would be delighted with the results.

The J5 has a maple top and body with the shallow 'Venetian' style cutaway. The fretboard is rosewood, as is the floating bridge.

Deluxe features include gold hardware, bound 'F' holes and split abalone block markers.

For genuine lovers of melodic guitar styles, the J5 is a cut-price magic carpet ride.
SPECIFICATIONS

Maple body

Maple top

Venetian cutaway

Rosewood fingerboard

Gold Hardware

Bound F holes

2 humbucker pickups

4 knob/ 3 way switch

Rosewood bridge

Washburn W jazz tailpiece

Abalone split block inlays

Raised black pickguard
Reviews